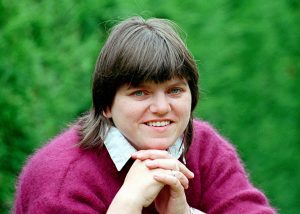 Throughout most of her life, Jill Saward was known as the victim of the Ealing Vicarage Rape. But her fame and international standing did not come about because of what a gang of burglars did to her in her home on 6 March 1986. Instead, it was what she did in response to it that captured the attention of the public.
Jill Saward was 21 at the time of the attack. It was lunchtime and she was at home with her then-boyfriend watching television. Her father, the Revd Michael Saward, was working in his study in their Ealing Vicarage home.
Four men broke in to the house. Jill's father and boyfriend were hit over the head with cricket bats – the assault fractured their skulls. The sound was so loud that Jill thought they had been shot.
Two of the gang took Jill upstairs where she was raped and subjected to a vicious sexual assault.
The case made headlines around the world. The public were horrified that a 21-year-old virgin could be raped in her own home – especially when that home was a vicarage.
The culprits were soon captured and charged but entered pleas of "not guilty". It wasn't until almost a year later, on what should have been the first day of their trial, that three of them changed their pleas and admitted their guilt. The fourth was in a coma in hospital. He had been attacked in prison by the most violent of the four, who was convinced that he would give evidence against them. He never recovered.
The case, already notorious, took on increased notoriety when the judge said that the trauma suffered by Jill was "not so very great". He later apologised for his words. One of the men who committed the rape and sexual assault received a sentence of three years for rape and five years for burglary and assault. The other received five year sentences for both rape and aggravated burglary. The man who did not take part in the rape – and who told the other two to stop – received a sentence of 14 years in prison for burglary and assault.
In 1991, Jill wrote a book about her ordeal: "Rape My Story". For doing so she was described as the first rape victim to waive her anonymity. The reality is, however, that she had no anonymity. The law at the time said that rape victims were legally entitled to anonymity once a person had been charged; and although the Press Council had its own rules about not naming victims of sexual violence, it had no guidance about how those rules should be enforced.
So one newspaper could report that "A west London vicar had been attacked and his daughter raped". While another could report that "the Revd Michael Saward had been attacked and a young woman raped." Neither report breached the Press Council's rules on not naming victims; but by reading both stories you knew that the victim was one of three people. Those who knew the family would have been aware that Jill's eldest sister was living elsewhere, leaving it down to one of two twins.
To make matters worse, on the Monday after the attack, The Sun newspaper published a full-length front page photo of Jill walking to church – a black bar across her face being the only measure they took to hide her identity.
Following the case, both the law on identifying victims, and the newspapers' code of conduct both changed. Now, victims have legal anonymity from the start; and the news industry rules prevent jigsaw identification.
The law was also changed on sentencing: now, the Attorney General has the legal right to appeal unduly lenient sentences.
These are just two examples of where law and practice changed as a result of Jill's case and her subsequent near-30 year campaign for victims and survivors of sexual violence.
The publication of Jill's book in 1991 threw her, once more, into the national and international spotlight. She became a well-known media personality, appearing regularly on television and radio programmes, and in newspaper articles, helping to explode myths about rape and campaigning for better treatment for victims and survivors.
She lobbied governments, opposition politicians and other public leaders. She helped to train police officers, judges, medical professionals, and forensic examiners. And she directly supported thousands of women across the world.
She even stood for Parliament in the 2008 Haltemprice and Howden by-election. The sitting MP, David Davis, resigned his seat and stood in the by-election in protest at his own government's plans to strengthen police powers to act against suspected terrorists. Davis had been shadow home secretary and opposed many tools the police used to target criminals, including the national DNA Database. His stood on a David Davis for Freedom platform. Jill Saward stood on a "True Liberty" platform, saying that this was the freedom to be "safe at home, safe at work, and safe on the streets."
The main political parties declined to stand candidates in the by-election, seeing it as a platform for Davis, who had a very safe large majority. Despite this, Jill was one of 26 candidates – a record for a British parliamentary election. She came sixth with just 492 votes. But the election gave her a platform to call for better treatment for victims of crime and to challenge Davis' position, which she saw as anti-victim and pro-criminal.
On Tuesday 3 January 2017, Jill suffered a massive stroke at her home in Staffordshire. She was attended by a team of four paramedics and ambulance staff before being taken to New Cross Hospital in Wolverhampton. She died two days later, on Thursday 5 January, leaving behind her husband, Gavin Drake, and three sons: Myles, Rory and Fergus.
Her death once again put Jill Saward on the front pages of just about every national British newspaper; it was the lead item on television and radio news bulletins. A few months after her funeral, which was held in Lichfield Cathedral, her ashes were placed in the sea off the coast of Nefyn on the Llyn Peninsula in north Wales, as she had requested.